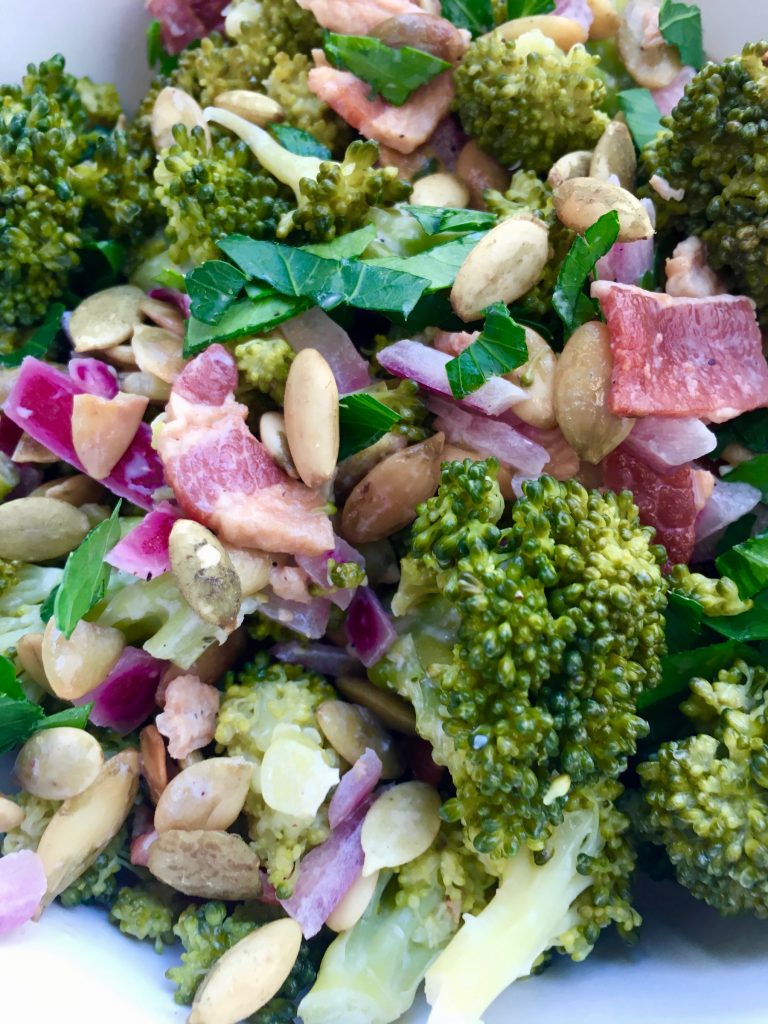 When we hear about eating healthy and low carb, sometimes our minds immediately think oh how bland or drab.  Granted, some things probably are a bit on the plain or blah side, especially if we're more accustomed to eating junk type foods.  But healthy low carb meals don't have to be plain and blah and drab – not at all.  There's so many ways to eat yummy and healthy foods, full of taste and oh so delicious.
And with that thought in mind, I've ran across an absolutely delicious salad recipe – Low Carb Broccoli Bacon Salad Recipe. Not only is it super tasty, it's also quick and easy to fix.
If you're like a lot of people these days, you don't want to spend a lot of time in the kitchen after working all day. But at the same time, you want good food, tasty food, healthy food. Or maybe you're tired of dealing with the kids all day and don't feel like standing in the kitchen for an hour or two to cook.
Whatever your reason for wanting a quick and easy recipe to make, this one is sure to please. And you can eat without guilt!   I like that part.  🙂
[bctt tweet="Low Carb Broccoli Bacon Salad Recipe" username="thewahmagazine"]
This low carb broccoli and bacon salad is super yummy and easy to make. It's mayo-free which means less calories. The dressing creates a boost of yummy flavor thanks to the fresh lemon juice and zest. The fresh broccoli and pumpkin seeds add a nice tasty crunchiness to the salad.
While you can make the broccoli bacon salad just when you need it, it's actually a little tastier if you make it the night before and let it chill overnight. Allowing the salad to chill for a few hours gives it time to let the flavors blend in together more, making it even tastier.
The prep time for the salad is only 15 to 20 minutes. It's a nice quick and easy meal or side dish. This recipe serves 4.
You can easily turn this into a main dish by adding one or two chicken breasts to the salad. Just stir-fry or bake the chicken breasts, then cut the chicken up into bite size pieces, add, and stir. Easy and oh so yummy!  🙂
Low Carb Broccoli Bacon Salad Recipe
Ingredients you will need: 
To Make the Dressing:
3/4 cup unflavored Greek yogurt
1 very small pinch Stevia powder (or 1 T. honey)
2 T. fresh lemon juice
1 T. fresh lemon zest
Salt and freshly ground black pepper, to taste
To Make the Broccoli Salad:
½ small red onion, cut into thin slices
2 large heads fresh broccoli, rinsed, broken into small florets
6 slices bacon, cooked crispy, and crumbled (or 1 jar real bacon bits)
¼ cup fresh parsley, chopped
Salt and freshly ground black pepper, to taste
1/3 cup toasted pumpkin seeds, unsalted
Directions to create this low carb dish:
Cook up the bacon crispy and drain it. You can bake the bacon in the oven at 350 for about 15 to 20 minutes, microwave it, or fry it. You can also opt to use real bacon bits in a jar.
Make the dressing by combining the Greek yogurt, Stevia (or honey), lemon juice, and lemon zest in a small bowl. Stir everything together, then season the mixture with salt and pepper to taste. Set the bowl aside for now.
Place the broccoli florets in a large microwave safe dish and add 2-3 tablespoons of water. Cover and microwave on high for 4-5 minutes, or until the broccoli is crisp and tender. Check after 3 minutes and adjust cooking times if needed.
Once the broccoli is as tender as you want it, remove the bowl from the microwave and drain off any extra water. Set the bowl aside and leave it uncovered to let the broccoli cool off.
In another large bowl, add in the red onion, broccoli, cooked bacon, and fresh parsley. If you've opted to add chicken to your salad, add in the cut up chicken bites now also. Toss it all around nicely to combine everything. Top with half of the Greek yogurt dressing and then toss all around again until everything is thoroughly coated.
You can serve immediately or cover and refrigerate overnight until ready to serve. If you have any dressing left, cover it and refrigerate until ready to serve.
When you're ready to serve the low carb broccoli salad, simply uncover and toss the chilled salad with remaining dressing. Sprinkle the toasted pumpkin seeds into the salad right before serving so they stay crunchy.
Note: You can switch out the Stevia for a tablespoon of honey. The one tablespoon of honey has up to 17 grams of carbs total or about 4 1/4 grams per serving.