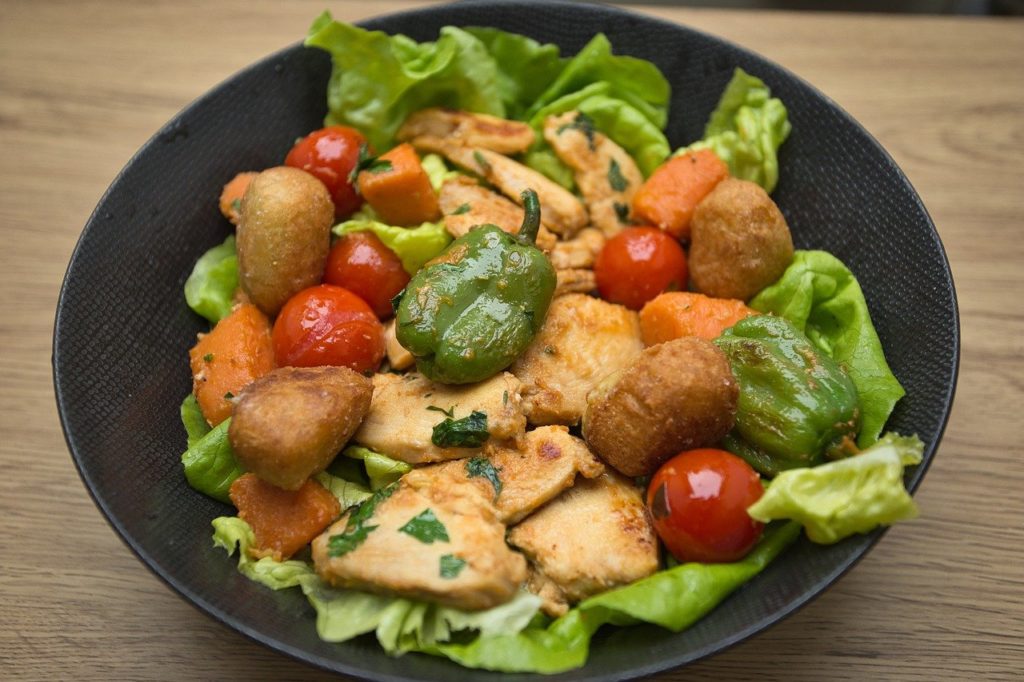 If you're looking for a delicious chicken dish that's light and refreshing, yet can still be flavorful at the same time, then this healthy chicken recipe is just the thing! Try this yummy grilled Thai chicken and veggie delight recipe! This Thai chicken dish can easily be served for any occasion. It can be a lunch dish, dinner meal, or side dish that can accompany just about anything.
If you're hosting a picnic with friends and family in the summer, this flavorful grilled Thai chicken recipe would be a perfect match. The great thing about this chicken and veggie recipe is that it has few ingredients, making the preparation fast and easy for you.
This veggie and chicken recipe can also easily be made ahead of time and placed in the fridge until you are ready to serve it up for your next event. If you want to serve this chicken dish for an intimate dinner party you would need to make a list of the toppings that you would want to put on it. You will also need to prepare some grilled veggies like red bell peppers, zucchini, and tomatoes.
The combination of all these ingredients makes for a delicious meal that is sure to impress your guests. You can even add some diced avocado and fresh lime juice as garnish to flavor the chicken dish further.
This recipe serves two people. Serve it with rice or noodles. Another great side dish idea would be cheesy potatoes, steamed asparagus, or roasted broccoli florets they would all go well with this flavorful chicken dish recipe.
It's best to have all your ingredients prepared before hand before starting on this recipe. You will have everything prepped and ready to go before actually beginning the cooking process.
Here's how to prepare the Grilled Thai Chicken and Veggie Delight Recipe:
Ingredients:
– 2 skinless, boneless chicken breasts (pounded out flat) – cut into 2- to 4 pieces each.
– 1 tbsp chopped parsley or cilantro, finely minced
– 1 tbsp dried basil, finely minced
– 1 tsp red Thai chili powder (or more, to taste)
– 2 cloves garlic, crushed or grated
– 1 shallot, minced
– 3 tbsp extra virgin olive oil, divided (2 tbsp for the chicken and 1 tbsp for the veggies)
– ¼ cup orange juice, fresh squeezed
– 2 cups diced grilled veggies of your choice (tomatoes, potatoes, peas, beans, squash, corn, etc.)
– Salt and pepper to taste
Instructions:
Start by mixing together the 2 tbsp of extra virgin olive oil, the chopped parsley, chopped cilantro, 1 tsp dried basil, garlic, and shallots in a bowl. Add salt and pepper to taste.
Place the chicken in a ziplock bag or plastic container and pour half of this mixture over it. Close it up and turn it over until all the pieces are evenly covered with the paste you made.
Place in fridge for about 30 minutes to an hour so that the chicken can absorb most of the flavors of the paste you made. You can also put it in a container and cover it with plastic wrap so that no air can get to it.
Get your diced grilled veggies ready and place them in a bowl. Set aside.
While the chicken is marinating, make the sauce by mixing together ¼ cup of freshly squeezed orange juice with 3 tbsp of extra virgin olive oil in a bowl. Set aside.
When you are ready to cook the chicken, heat up your grill or pan over medium-high heat and brush both sides of each piece of chicken with 1 tablespoon of olive oil. Place the pounded flat chicken on the grill or in the pan and cook for 3 minutes until browned a bit. Flip the chicken and cook for 3 minutes on the other side.
When done, place your grilled chicken on a plate lined with paper towels and serve with your sauce and grilled or stir-fried veggies. You can serve this with rice or quinoa to make it a more complete meal.