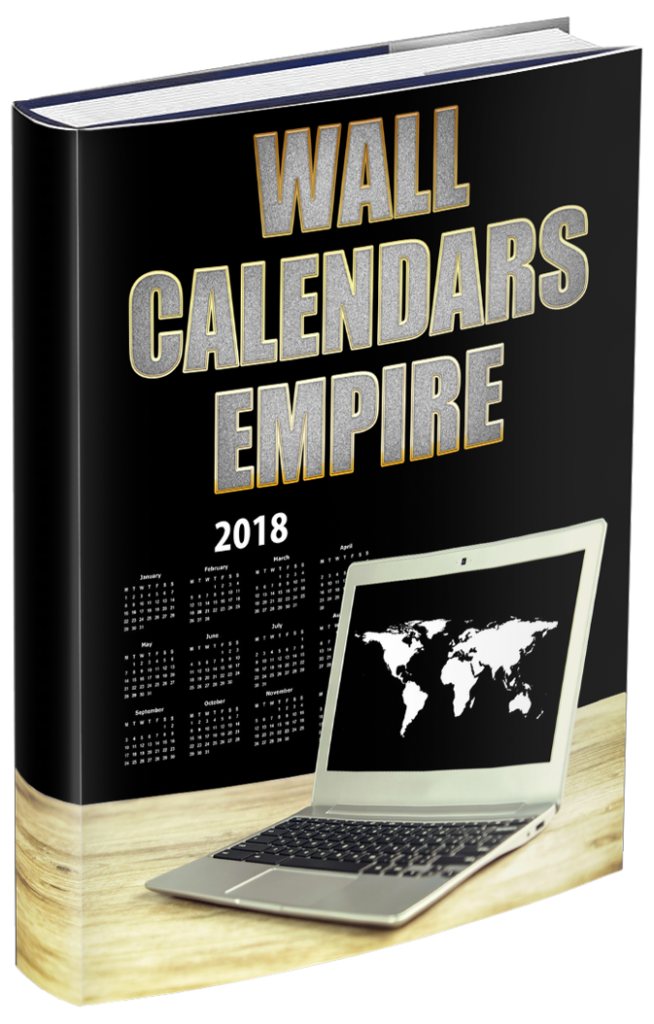 *Disclaimer – I received review copies of Wall Calendars Empire in exchange for a review.
It's something that just about everyone has at least one of, and often more than one of.
Wall Calendars – just about everyone has a wall calendar hanging in their home. Some people have lots of wall calendars in various rooms of their homes, mainly because they can't decide on just one calendar.
People buy wall calendars, sometimes multiple calendars. But here's the fun fact – they often aren't buying more than one wall calendar to keep up with the date, but rather for the beautiful photos on the calendars.
You probably know that calendars sell pretty well. But did you know that you can make money creating wall calendars?
Alessandro has released Wall Calendars Empire that teaches how to cash in on creating wall calendars for profit.
[bctt tweet="Creating Wall Calendars for Profit – Wall Calendars Empire Review " username="Bloggingology"]
Here's What You'll Learn:
– How to Uncover the Top 8 Niches for Creating Hot Calendars
– 58 Websites to Grab Commercially Free Photos
– 2 Videos to Watch Live Calendar Creation
– The Best 2 Sites to Use to Print Your Calendars
– Two Example Product Sales to Make Yours
– 5 Ways to Sell Your New Calendars Like Crazy
– Plus More!
This training guide is easy to follow and learn. I've created calendars in the past, so I already knew some about this topic. Even so, I learned a lot more in Alessandro's guide. I was pleasantly surprised to find that there was a lot I didn't know about. So even if you've created calendars already, I am betting you'll be like me and learn a lot more. And if you're new to creating calendars, you're going to learn a lot! 🙂
The front end product is Wall Calendars Empire and two bonuses (Advent calendars and 2139 calendar niches).
In this training, Alessandro reveals the top popular topics for calendars (the ones that sell the most), along with a bonus giving 2,139 calendar niches.
This bonus file itself is super handy! People love different things as far as photos go. If you create calendars in various niches, you reach a lot more people who might be interested in your calendars and buy them… simply because of the photos on them. So the more calendars you create in more niches, the more people you reach, the more potential buyers, the more profit.
Alessandro gives you the two best sites for creating your calendars that will give you the maximum profit when buyers purchase the calendars you created. There are other places to use also, but they don't give you as much profit per sale as these two do. While you can use others along with the sites Alessandro gives you in this training, I would highly recommend using the ones Alessandro lists first to get the maximum profit in your pocket.
Alessandro also has two videos showing step by step calendar creation, so you can see how easy it is to create these. These are really handy if you like to see creation in action.
Then there are the 58 websites Alessandro gives you to find public domain photos that you can use. Because they are in the public domain, they can be used for commercial use. This will give you just about any type of photo to use for calendar creation.
Oh, and another goodie to think about. When another year rolls around and it's time to create the next year calendar, you can see how your current calendars can be moved to the new year in one easy step. Super cool! This saves a load of time!
Alessandro also gives you ideas on how to sell your calendars once you've created them. These are some good ideas apart from just posting on your blog or social media.
The Front End main product is only $9.95 for a few hours. I recommend grabbing it before the price goes up.
After purchasing the Wall Calendars Empire, you have to option to grab Alessandro's OTOs with this product.
The OTOs are very helpful and useful and include:
– OTO1 shows how to sell a lot of calendars to offline businesses and for weddings
– OTO2 offers 10 complete calendars in various niches with PLR rights, ready to be created
– OTO3 offers a 1 to 1 coaching on how to sell dropshipping items on Etsy
In closing – if you're looking for a way to make money online with wall calendar creation, I firmly believe that Wall Calendars Empire from Alessandro will help you tremdously. It's easy to understand and gives you what you need to know to create your own wall calendars to sell for profit.
Click here to grab your copy now.