*Disclaimer – I received free product in exchange for my honest review.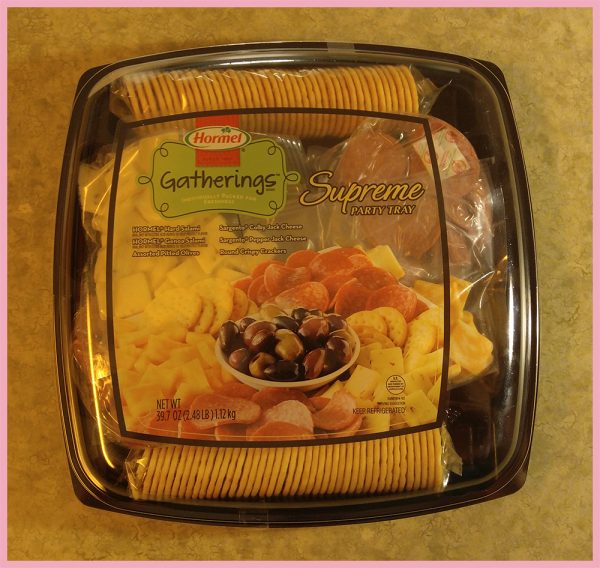 One of the nice things about a get-together is the food and snacks that are served. We lead busy lives and it's not always easy or convenient to prepare food for a get-together.  Or maybe unexpected guests show up and you need something quick and easy to serve, and something yummy… something that's already prepared and ready to serve.
I recently had the opportunity to try HORMEL GATHERINGS Party Trays.  I chose the 39.7 oz HORMEL GATHERINGS Supreme Party Trays.
My local Walmart store carries the party trays, but they only had a lot of the same thing – the one with two types of salami. I did want to try more than one type of tray, since there are party trays with different meats available in the various party trays. but was not able to since only one type was available at the store.
The party trays I chose came with HORMEL hard salami, HORMEL genoa salami, assorted pitted olives, colby jack cheese,  pepper jack cheese, and round crispy crackers with a light buttery flavor.
[bctt tweet="Hormel Gatherings Party Trays Review" username="Bloggingology"]
Reasons I really like these party trays:
The food is already prepared. All you have to do is open the package, arrange the food on the included divided tray or your own tray, and serve. No cutting, no slicing, no chopping.  It's all already done for you. This saves a load of time in food prep.  Ready made snacks!    🙂
The food is absolutely yummy!   The cheese is oh so good.  There are two types of cheese, and both are equally scrumptious. The crackers have a light buttery taste and just the right texture – not too hard, not crumbly, but perfect.   The two types of salami are mmm good.  The olives add a nice flavor along with the salami, crackers, and cheese.
You can devour each food item alone or mix and match for different flavors. Eating each thing separately is good, and combining them together is good.
These are finger foods so you don't need silverware.  That saves on the dish washing.
The party trays can be stored after opening is not all is eaten. The party tray top closes nicely over the included tray and seals really well. Although it's not likely you'll have leftovers (the food is SO yummy!), it's nice to know you can easily refrigerate the party trays. They stack easily also, making it easy to store them in the fridge until you're ready to snack on them again.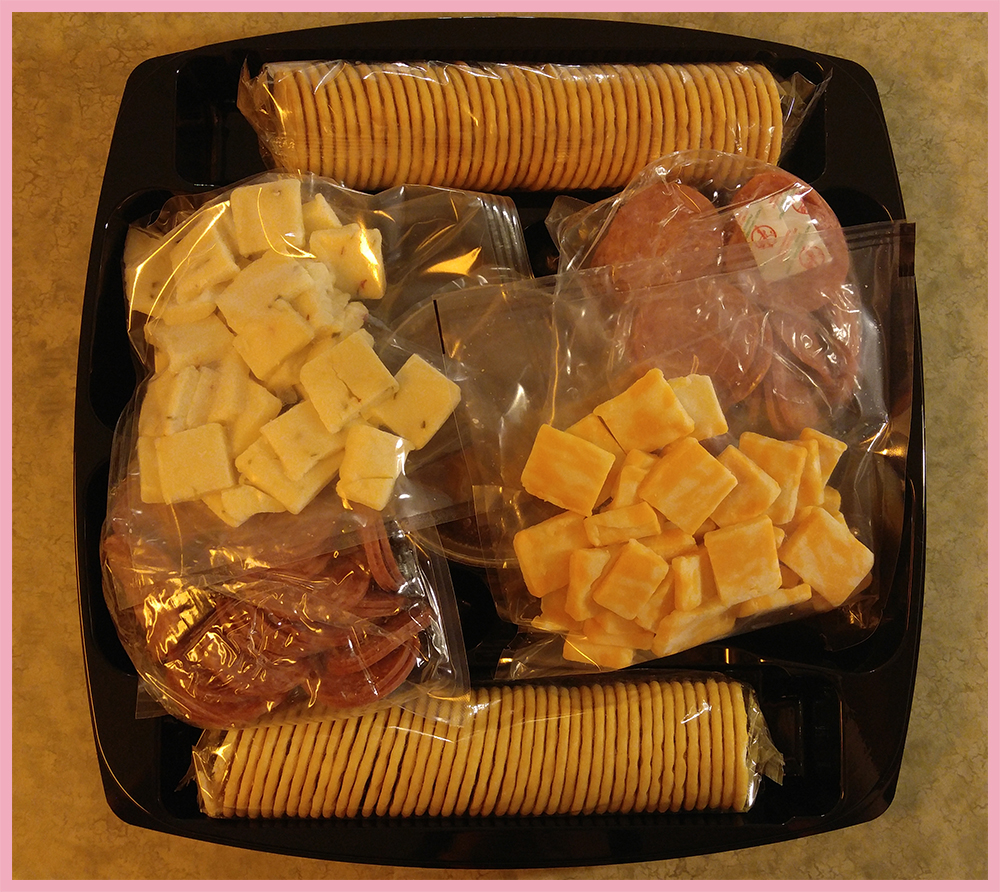 It was nice to be able to have snacks and not have to stress over preparing food.  The time saved in food prep was divine. The food was good, very high quality, and was enjoyed by all. It was devoured. That's a sure sign of something yummy and good!  🙂
Another idea – while these ARE party trays, you don't actually have to serve them at a get-together or party. You can have them just for you… a ready made snack to partake of any time you want something that's yummy and already prepared.
HORMEL GATHERINGS Party Trays are great for an at home snack, take on a road trip, take to work with you, etc. Just put them in your cooled lunch bag and go. Inside the party tray package, each item is already enclosed in it's own package, so you can take it or open it and put a portion into a take along container.  Lots of yummy ideas!   🙂
I honestly cannot think of anything that would be against this product.  My experience in trying HORMEL GATHERINGS Party Trays is totally good, ans I am 100% satisfied with the product.  I highly recommend the product.