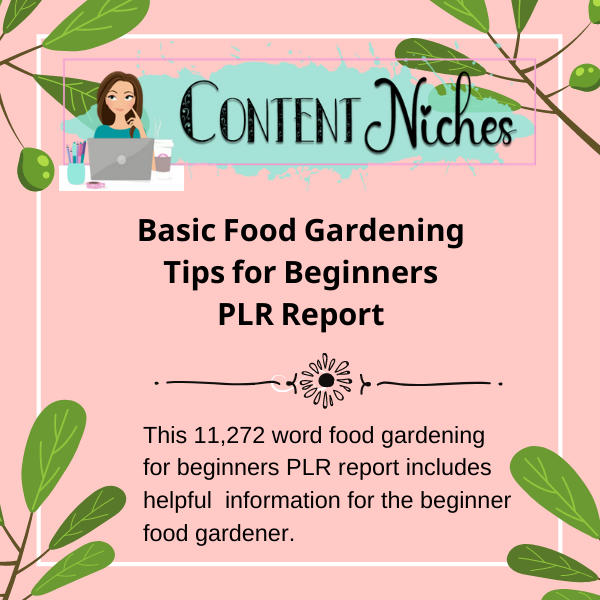 Basic Food Gardening Tips for Beginners  is a 11,272 word PLR Report containing food gardening tips for beginners. This food garden PLR report touches on various topics pertaining to starting and growing a vegetable garden, aimed at beginners who've yet to master the art of food gardening.
There are various reasons these days that a person might want to grow a vegetable food garden, a person who's never done it before. Since the pandemic hit, many people didn't want to get around people to shop, and many still don't want to get around people. Not only that, but food shortages are still happening, and it's caused folks to want to turn to growing their own food, but they just don't know what to do.
That's the purpose of this report – to give food garden beginners some helpful tips about how to go about growing their own vegetables. Below is a list of the tips covered in the report. Upon purchase, you'll have an instant direct download link to the PLR report in .txt and Word .doc formats.

– Consider Starting Small as a New Gardener
– Buy Plants Only from a Gardener
– Prepare the Soil Before Planting Your Garden Vegetables
– Try Growing Vegetables Your Family Likes
– Know Where to Get Good Seeds
– Know the Growing Process
– Find the Best Place for Your Garden
– Be Selective in Which Plants You Choose to Grow
– Know What Different Crop Types Grow Best in Your Soil
– How to Start a Food Garden (That You Will Actually Enjoy)
– Protect Plants from Drought and Hot Summers
– Garden Growing Schedule
– Garden Organizing Can Help You Save Time and Money
– Get a Row Crop Planner
– Keep a Journal During the Growing Season
– Compost and Fertilize to Keep Soil Rich and Healthy
– Growing Plants from Seeds
– Starting a Garden with Plants
– Essential Tools for Good Gardening
– The Easiest Foods to Grow for Beginners
– Grow Food with Compost
– Best Foods to Grow for Big Yields
– Planting Crop Rotation
– Growing Garden Herbs
– How to Grow Delicious and Nutritious Microgreens
– Don't Over Water or Under Water the Garden
– How to Pests Away from Your Edible Garden
– How to Attract Good Insects to Your Vegetable Garden
– Foods to Grow for the Best Nutritional Value
– Know How Much Space a Plant Will Need
– It Takes Time to Care for a Vegetable Food Garden
– Be Sure to Weed Your Garden to Allow Your Plants to Grow
– The Best Smart Gardening Gadgets for Successful Gardening
– How to Grow an Urban Food Garden
– Vegetables to Grow in Your Garden During the Hot Summer Months
– Best Vegetables to Grow During Cold Winter Months
– How to Maximize Your Garden Harvest with Succession Planting
– Pests in the Garden and How to Get Rid of Them
– Be Sure Your Garden has a Good Drainage System
– Maximize Garden Space by Interplanting
– Check Plants for Signs of Disease
– How to Control Pests
– How to Keep Your Garden Healthier in the Winter
– What Supplies do You Need to Start a Garden?
– How to Start Your Seedlings
– Problems with Growing Plants indoors
– Overall Best Gardening Tips for Beginners
Buy now for just $24 (that's less than $1 per page)
Instant download – upon payment, you'll be taken to the download page.