Roasted Garlic Hummus Recipe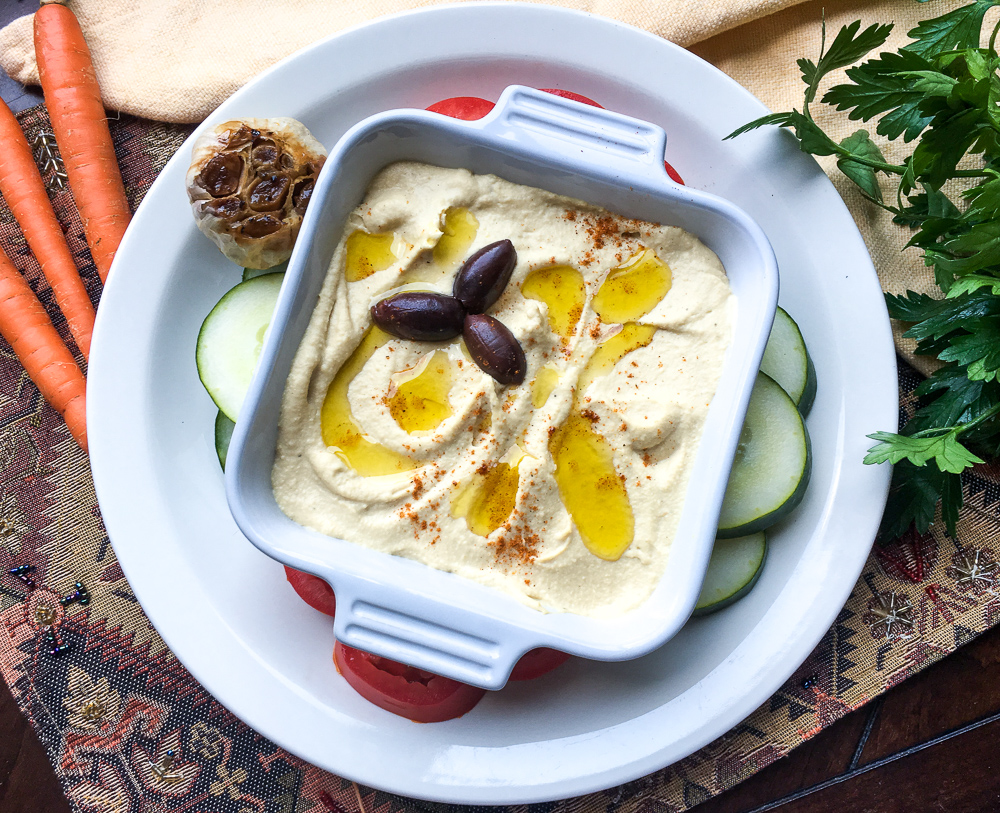 About six months ago, I discovered the oh so yummy joy of hummus – specifically roasted garlic hummus.  It's super tasty, goes with a wide variety of foods, and is really low in carbs.
I could eat the delicious concoction every day… that's how much I like it!
But if you've ever bought roasted garlic hummus that's already prepared, you know it's not a very frugal buy. I learned that I can make my own that's just as good (if not better) than the store bought, and it's a lot better deal for the money.
A batch of homemade roasted garlic hummus will keep in the fridge for a week. But it never lasts that long here.   🙂
This recipe serves 4.
[bctt tweet="Roasted Garlic Hummus Recipe" username="Bloggingology"]
If you really love your hummus, you can grab a Hummus is Yummus T-shirt and let the world know how you feel about your hummus. 🙂
Roasted Garlic Hummus Recipe
1 large head of garlic, with lots of cloves
3 T. extra virgin olive oil, divided
15 oz. can chickpeas, rinsed and drained
3 T. fresh lemon juice
1/3 cup tahini (Buy Tahini Here)
3 T. water
1 t. ground cumin
1/2 t. cayenne pepper
Sea salt, to taste
Smoked paprika, for garnish
Optional: crackers, olives, tomatoes, cucumbers, carrots, celery, etc.
Preheat oven to 400°F. Cut the top off the gloves of garlic and drizzle with a small amount of extra virgin olive oil. Wrap the garlic in aluminum foil and bake for 40 minutes. Remove the roasted garlic from the oven and set it aside to cool for a few minutes.
Next, add the remaining olive oil, chickpeas, lemon juice, tahini, water, ground cumin, and cayenne pepper to a blender or food processor. Once the roasted garlic is cool, remove the skin from the roasted garlic cloves and add the garlic cloves to the container.
Season with sea salt to taste, then blend everything until smooth. Add more water if needed to get the desired consistency.
Transfer to a serving dish and drizzle with extra virgin olive oil and a sprinkle of smoked paprika. Serve immediately with your choice of fresh vegetables, olives, crackers, etc.
Store any leftover roasted garlic hummus in an airtight container in the fridge for up to one week.