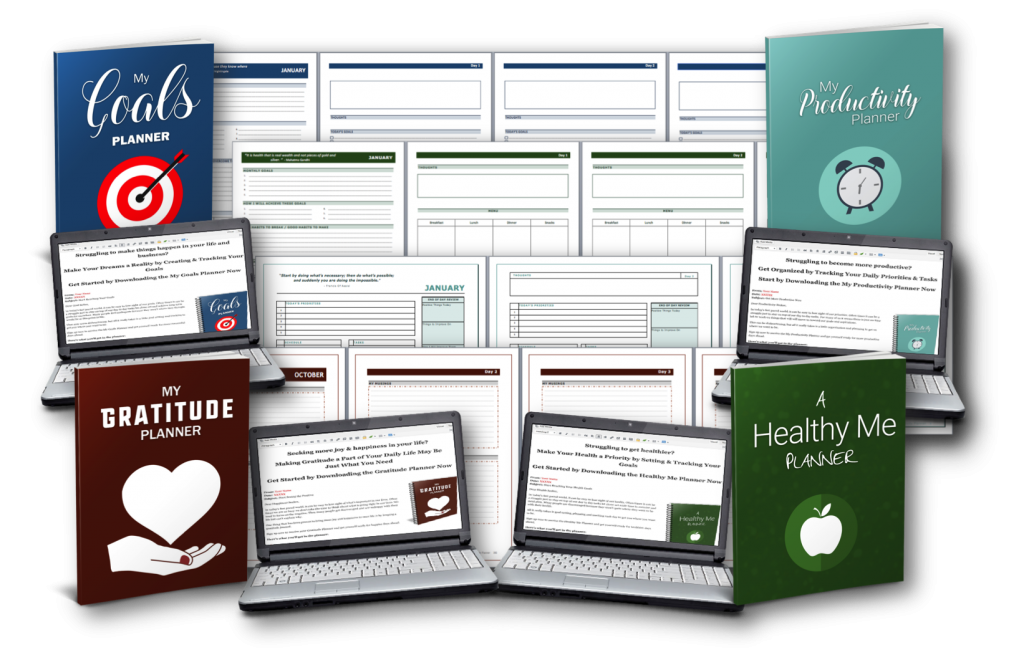 Alice has released a brand new set of planners on various topics that you're sure to love. The Personal Daily Planner Mega Pack is loaded with four planners that you can brand, monetize, and publish.
People love planners! And they love planners on various niche topics to help them plan their days, meet their goals, increase their productivity, keep up with their health, and much more.
This is where you can help them. Once you purchase these done for you planners, you can use them just as they are, or edit them if you prefer. Then just brand them with your name, website, etc., publish them in physical form and/or printable PDF pages, sell them, and earn yourself some money.
[bctt tweet="Personal Daily Planner Mega Pack With 4 Planners" username="Bloggingology"]
Here's what you get in the Personal Daily Planner Mega Pack Includes:
My Productivity Planner: Help your readers get organized and more productive with this planner.
My Goals Planner: Give your readers a place to document and track their daily, weekly and monthly goals with this planner.
A Healthy Me Planner: Help your readers stay accountable and track their progress to get healthier with this planner.
My Gratitude Planner: Give your readers a beautiful place to journal and add what they are grateful for each day with this planner.
You also get cover graphics for each planner, along with lead generating landing page copy to help you make sales.
Each planner has over 365 pages, ready to use.
Click here to grab this pack of personal daily planners now.

Want Even More Planners on More Topics? 
Get the Power Planner Pack!
Once you've purchased the Personal Daily Planner Mega Pack With 4 Planners package, you get the opportunity to grab 10 more Personal Daily Planners! Get 10 more uniquely designed planners on a variety of topics including:
Busy Mom's Planner
Academic Planner
Daily Business Planner
A Better Me Every Day Planner
Getting it Done Planner
Work at Home Balance Planner
Entrepreneur's Daily Planner
Getting Organized Planner
My Daily Planner
Success Planner
The Power Planner Pack allows you to reach even more people that will want to buy daily planners – Moms, homeschool moms, moms who want to get organized, work at home moms, people who want to plan their business day, people who want to plan their daily lives, etc.  Lots of possibilities!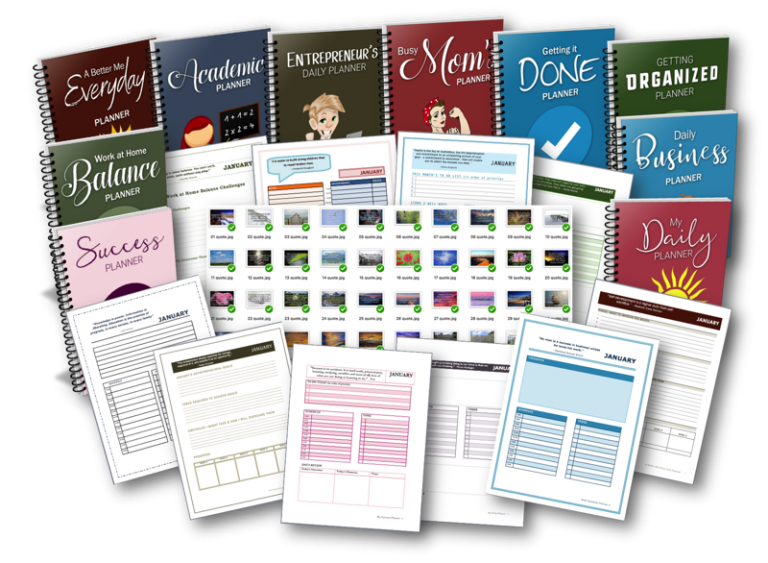 Here are a few ideas for using the daily planner content:
Use the planners as highly-targeted lead magnets to grow your list. You've got the ready-to-paste opt-in copy for each planner included in the package, making it easy for you to make a hard-to-resist opt-in offer to get more subscribers.
Add the planners to your membership site. If you've got a membership site, these planners are a great value-add to your membership. Send them out by email or even print out and mail them.
Use the planners as a product bonus. Beef up your current product offers by adding a planner as a product bonus.
Develop it into a product for sale. Whether you deliver via email or snail mail, these planners make for great content your customers are willing to pay for.
Create a online training program around the planners. For example, you could build a productivity course around the productivity planner. It's the central point of your training as you walk your customers through becoming more productive.
Offer the planners as a high value extra for your coaching and consulting clients. If you offer coaching or consulting services, these planners are great ways to help your clients take action on their goals and stay on track.