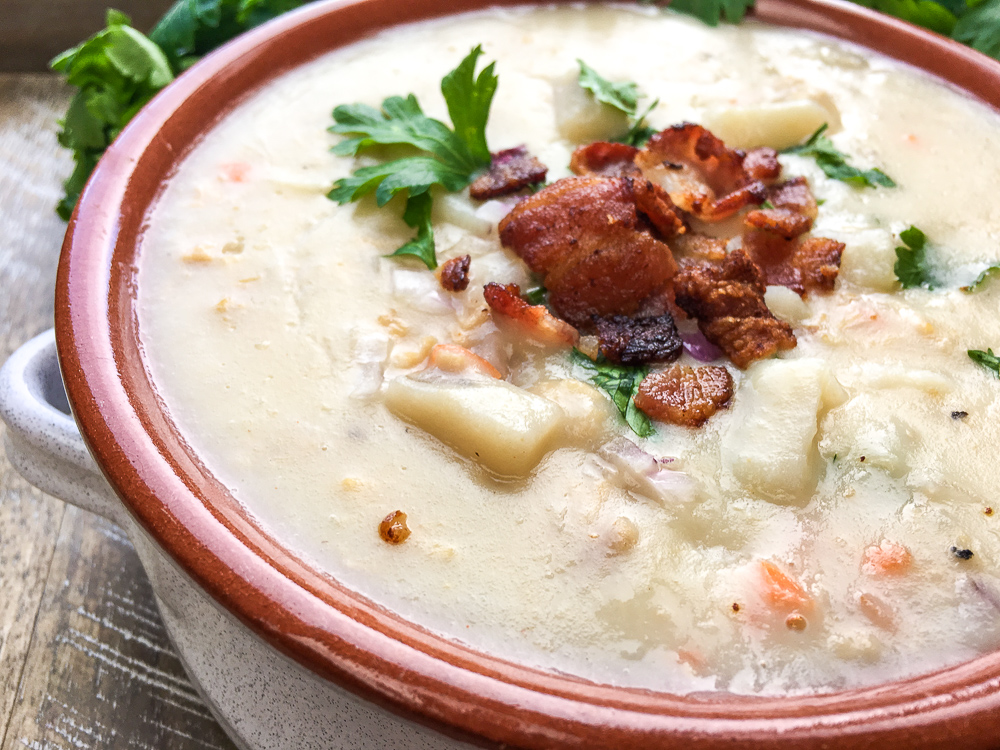 New England Clam Chowder is super yummy and delicious any time of year, but it's even better (and so warming!) on those cold winter days.
[bctt tweet="New England Clam Chowder Recipe " username="Bloggingology"]
Prep time: 10 minutes
Cook time: 30 minutes
Serves: 4
6 slices thick cut bacon, diced
1 small red onion, diced
2 large carrots, finely chopped
3 cloves garlic, minced
Sea salt and black pepper, to taste
2 T. chickpea flour
½ c. clam juice
2 c. whole milk
½ c. heavy cream
1 lb. Yukon Gold potatoes, peeled and cubed
½ t. Old Bay seasoning
1 t. fresh thyme
2 6.5-oz. cans minced clams, including juice
3 T. fresh parsley, chopped
❤ SVG Cut Files, Graphics, Fonts, etc. ❤
https://designbundles.net/rel=LETU6V
1. Heat a large soup pot over medium heat. Add bacon and cook, stirring occasionally, until the bacon becomes crispy, around 4-5 minutes. Remove bacon with a slotted spoon and transfer to a plate lined with paper towels. Blot off excess grease and set aside.
2. Drain and discard all but 2 tablespoons of bacon grease from pot before adding onion, carrots, and garlic. Season with salt and black pepper, to taste, and sauté until soft, around 4-5 minutes. Sprinkle with chickpea flour and cook for another minute, stirring frequently.
3. Add the clam juice, milk, and heavy cream, and whisk until combined. Add the potatoes, Old Bay seasoning, fresh thyme and 2/3 of the cooked bacon crumbles. Season with additional salt and black pepper, if desired, and stir to combine.
4. Increase heat to medium-high and bring to a low boil, then immediately reduce heat to a medium-low. Cover and simmer until the potatoes are fork-tender, approximately 15 minutes.
5. Once the potatoes are cooked, add clams and stir to combine. Continue cooking for 2-3 minutes, or until the clams are heated through. Taste and adjust seasonings, as desired. Remove from heat and serve immediately topped with remaining bacon crumbles and fresh parsley, if desired.