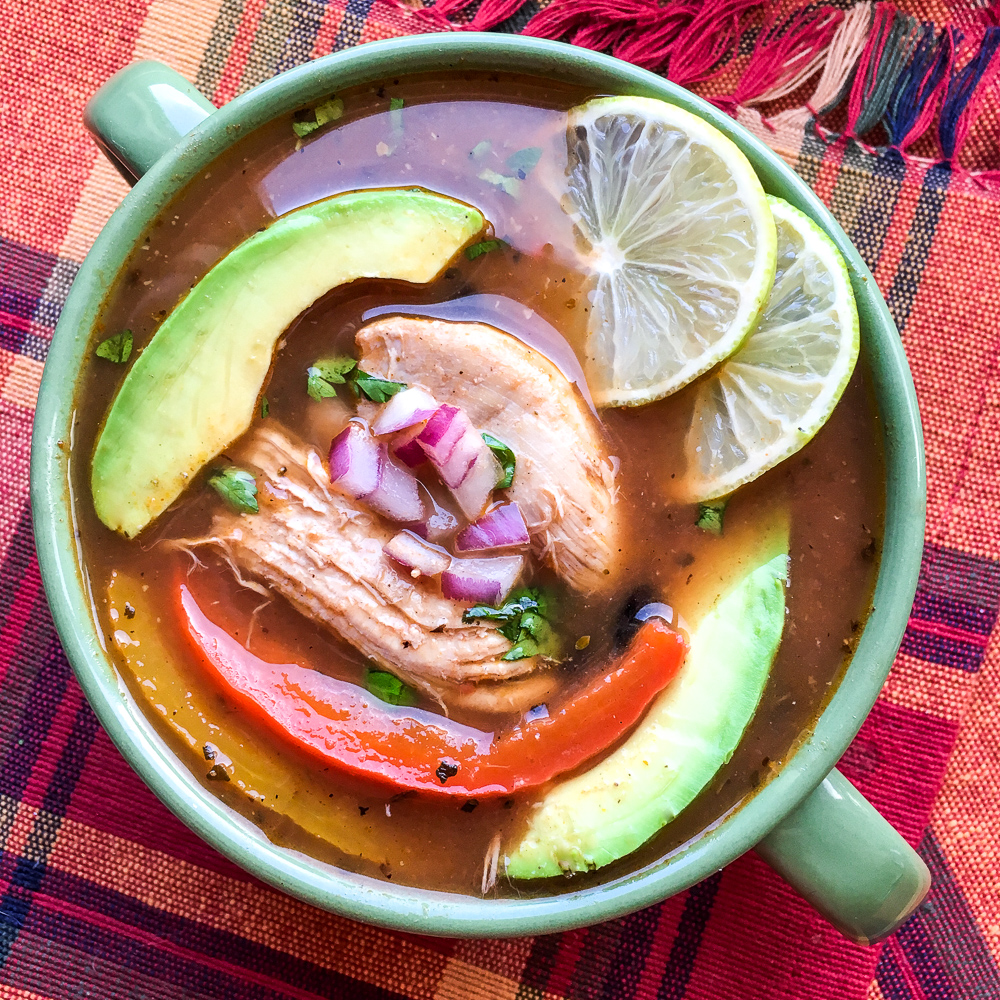 Instant Pot Chicken Fajita Soup Recipe
Ingredients:
2 T. extra virgin olive oil
½ medium red onion, sliced
1 medium red bell pepper, sliced
1 medium yellow bell pepper, sliced
1 medium Poblano pepper, seeded and chopped
Sea salt and black pepper, to taste
1½ lbs. boneless, skinless chicken breasts
1 14 oz. can diced fire roasted tomatoes, with liquid
3 c. chicken broth, preferably organic
2 t. ground cumin
1 T. chili powder
2 t. Mexican oregano, dried
1 t. garlic powder
1 15 oz. can black beans, drained and rinsed
3 T. fresh lime juice
For the Garnish:
2 large avocados, sliced
3 T. red onion, chopped
Shredded Mexican cheese blend
Fresh cilantro, chopped
Directions:
1. Add the olive oil into the Instant Pot and select the Sauté button. Set it to high. Wait until the display reads HOT then add in the red onion, bell peppers, and Poblano pepper. Season with salt and black pepper to taste and cook, stirring continually until the onion and peppers are tender and develop a bit of color, (approximately 4 to 5 minutes). Turn the Instant Pot off and transfer the contents to a bowl and set aside.
2. Season the chicken breasts all over with salt and black pepper, to taste. Place the seasoned chicken into the Instant Pot. Add in the tomatoes, chicken broth, cumin, chili powder, Mexican oregano, and garlic powder. Stir well to combine.
❤ SVG Cut Files, Graphics, Fonts, etc. ❤
https://designbundles.net/rel=LETU6V
NOTE: If desired, you can cut the raw chicken up prior to placing it in the Instant Pot. This will further enhance the flavor and you won't need to shred the chicken once it's done.
3. Place on the lid and lock it, then set the pressure valve to SEALED (or closed). Select the MANUAL button on the high setting, setting the cooking time to 10 minutes. When the chicken is done cooking allow the pressure cooker to release naturally for 10 minutes, and then do a quick release for any remaining pressure.
4. Remove the Instant Pot lid and shred chicken breasts using two forks. Add in the veggies (that you set aside earlier), black beans, and lime juice. Stir to combine. Do a taste test and add in more seasoning if needed.
5. Let the Chicken Fajita Soup sit on for several minutes on the WARM setting, until the veggies and beans are heated through. Serve immediately topped with sliced avocados, red onion, Mexican cheese, and fresh cilantro, if desired.
Serves: 4-6. Prep time: 15 minutes (20 minutes tops if you're cutting up the raw chicken). Active cook time: 15 minutes, plus time to come to pressure and 10 minutes for natural release.