So, I did something crazy a few days ago. I bought an Instant Pot. I've been wanting an Instant Pot for probably a year, maybe longer. To be honest, I was a little afraid to get one… afraid they were not safe and that I would burn myself from the steam or worse. I had the idea of the old on the stove type pressure cookers, and those things have always scared me.
But after watching a handful of various YouTube videos for the Instant Pot, I discovered they are very safe. So, finally, I grabbed one!  Yay me!!  🙂

[bctt tweet="Getting Started With the Instant Pot" username="Bloggingology"]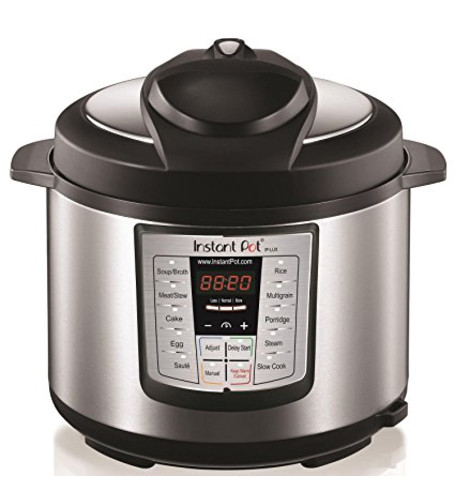 This is the one that I got – the 6 in 1 Instant Pot. I knew I wasn't going to be making yogurt, so the 7 in 1 Instant Pot wasn't for me.  If you plan on making yogurt, then you for sure want to grab the 7 in 1 instead of the 6 in 1.
The 6 in 1 Instant Pot that I bought comes with the main cooking unit, the stainless steel inner cooking pot, two slightly different plastic spoons for stirring and/or serving, and a steam rack.  The downside is it doesn't come with a lid for the stainless steel inner cooking pot, but you can get one separately here for about $15 to $17.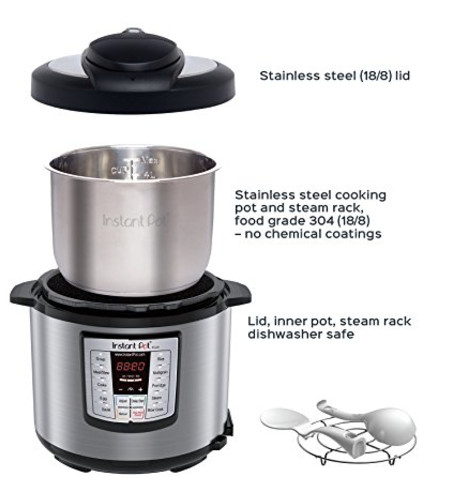 The first thing I tried making in the Instant Pot was cooking chicken breasts to put in salad and for rice and chicken. The idea was for the chicken to be super tender to shred for the meals.  I put three boneless skinless chicken breasts into the cooker, added one cup of water, some salt and pepper, swished it around a wee bit, covered it and set it to manual cook for 20 minutes. When the 20 minutes was up, I carefully opened the valve to quick release to release the pressure.
Going forward, I will use a big long handled wooden spoon to open the valve to release the pressure. Why? Because it was near freaky when all that steam came rushing out LOL.  No, I didn't scald myself or burn myself. But I wasn't any too happy with my hand, fingers, and arm that close to all that wild steam that came bellowing forth when I turn the little valve to let the pressure and steam escape.
But on the plus side, the chicken was just great.  Tender, yummy, near perfect. I will probably go 22 to 25 minutes next time, just to let it cook a wee bit longer. It didn't fall apart but it was super easy to cut and shred. The flavor was great.
There isn't a poultry setting on this particular model so I just hit manual then added the amount of minutes I wanted. It's super easy!
So yesterday, or rather in the wee hours this morning, I decided to try some dry pinto beans. I normally do them in the Crock Pot for about 5 hours on high for a 1 lb bag and half of another 1 lb bag.  I wanted to see how dry beans would do cooking them in the Instant Pot.
So I put in a 1 lb bag of dry pinto beans, added in 6 cups of water, some salt and pepper. I hit manual then added 45 minutes for them to cook. We like soft beans. If you prefer less softness to your beans, 25 minutes will probably work.  These came out perfect, exactly as they do when I use the Crock Pot.
I did not slow cook them in the Instant Pot.. I didn't use the slow cook button, just the usual manual then set the minutes. I did a natural release for 15 minutes, then the quick release for about 5 minutes.
I wasn't sure how I would like the Instant Pot, to be honest.  But after using it I'm really impressed overall with it. It cuts down on cooking, dishes to wash, it's fast, it's easy to use.  As long as you're paying attention to what you're doing, it's perfectly safe. The lid won't come off while it's cooking – another huge plus for me personally.
I didn't personally get any silicone gloves for it although I might later. For now, my regular potholders work just fine.
Here are some of the extras you can get to use with the Instant Pot:
A lid is highly recommended –
An extra stainless steel inner cooking pot is handy if you plan to cook a lot in the Instant Pot (and also another lid for it) –
If you want to make cakes in your Instant Pot, an Instant Pot Silicone Springform Cake Pan is calling your name –
It would be handy to have some spare sealing rings on hand –
You might want the Instant Pot mini mitts to use instead of potholders –
Once you use the Instant Pot for a while, you'll naturally learn to use it to cook more meals and adjust cooking times to your own personal preferences. You can make food up ahead of time and freeze meals, without taking a long time to do it. The Instant Pot cooks foods so much faster – it's simply amazing!
For example, if you forgot to take the chicken out of the freezer to thaw in the fridge, normally it would add a lot of time to cooking it or baking it, etc.  But with the Instant Pot, instead of 20 minutes to cook it to tender perfection, you would only need to cook it for about 30 minutes – and even less if you don't want it super tender. If you're doing legs or thighs, even less time, even frozen!
Overall, the Instant Pot is just a fantastic time saver. You can make super yummy meals that taste so good in so much less time, with so much less cleanup to do.  AND it saves money on your power bills because you're not baking for an hour or more or having the stove on for an hour or more. And it won't heat the kitchen up!
If you're holding off on getting on because you're afraid of it (honestly, I was), I can assure you it's safe. Just do like I am LOL to let the steam out for the quick release and use a long handled wooden spoon to open it.  🙂
Get yourself an Instant Pot!  You will so love it!  🙂