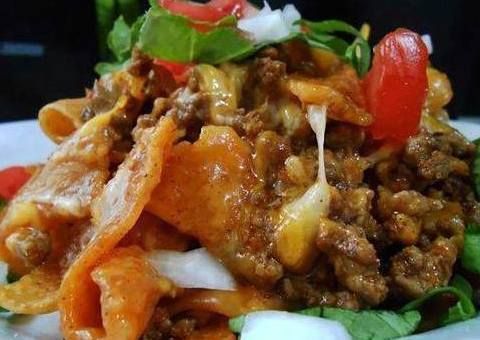 4 cups small fritos
3 cups cooked ground beef, taco seasoned
3 cups grated cheese
10 oz can of enchilada sauce
1. Pour the fritos into a large bowl, add the cooked ground beef and 2 cups of cheese. Toss it to mix.
2. Put all into a casserole dish and heat it in the oven.
3. Sprinkle on the rest of the cheese and pour the enchilada sauce on top. Put back into the oven for about 15 minutes until it's bubbly hot and the cheese is melted.
4. Garnish with sour cream, pico de gallo, salsa, salad, etc.
[bctt tweet="Frito Enchilada Pie Recipe" username="thewahmagazine"]
❤ SVG Cut Files, Graphics, Fonts, etc. ❤
 https://designbundles.net/rel=LETU6V 
~~ FOLLOW me on Facebook to get all my daily posts ~~
https://www.facebook.com/CindyThomas