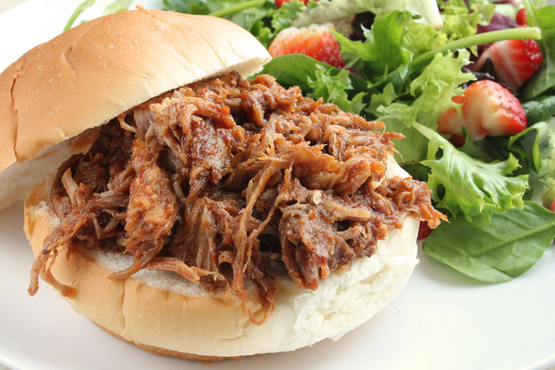 4 lbs pork roast (shoulder or butt)
2 large onions
1 cup ginger ale
1 (18 ounce) bottle favorite barbecue sauce
Slice one onion and place in Crock Pot. Put in the roast and cover with the other onion, sliced. Pour over the ginger ale. Cover and cook on LOW for about 12 hours.
Remove the meat, strain and save the onions, discard all liquid. With two forks, shred the meat, discarding any remaining fat, bones or skin. Most of the fat will have melted away.
Return the shredded meat and the onions to the crock pot, stir in the barbecue sauce. Continue to cook for another 4 to 6 hours on LOW. Serve with hamburger buns or rolls and additional barbecue sauce.
Any leftovers freeze very well.
TIP: freeze ready-made sandwiches – a scoop of meat on a bun, well-wrapped. These make a great quick meal or snack. To reheat, remove wrapping, wrap in a paper towel, and zap 1-2 minute in the microwave.
❤ SVG Cut Files, Graphics, Fonts, etc. ❤
https://designbundles.net/rel=LETU6V
~~ FOLLOW me on Facebook to get all my daily posts ~~
https://www.facebook.com/CindyThomas