**I was compensated for this post and this post contains affiliate links, and I will be compensated if you make a purchase after clicking on my links.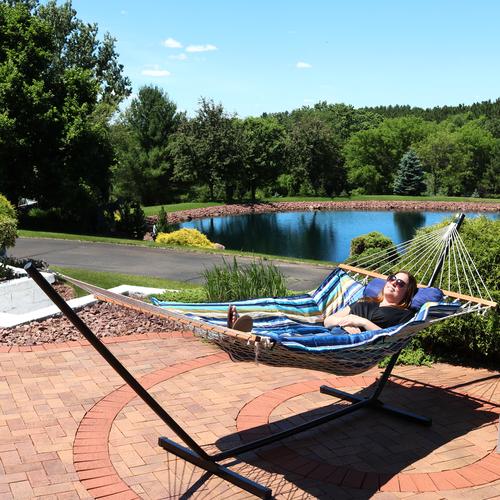 July 22 is National Hammock Day and a lovely way to celebrate is by taking advantage of colorful hammock options from Sunnydaze Decor. National Hammock Day is a fantastic time for you to enjoy your backyard, patio, or camp with hammocks and patio furniture options available through Sunnydaze Decor!
Hang the hammocks on a hammock stand or secure between two trees for an afternoon nap or spending time reading a favorite book! Hang one of Sunnydaze Decor's hammocks for National Hammock Day to enjoy leisure time relaxing, reading a book, or taking naps. Hammocks come in many different colors, and they're made from high quality fabrics and hardware that will last for many years.
** One Day Hammock Sale **
National Hammock Day: Save 10% on Sunnydaze Hammocks and Accessories with coupon code RELAX10 on 7/22
There are a lot of styles, colors, and patterns of hammocks to choose from – so there's pretty much something for just about anyone. You can choose a hammock that's just your particular style. Some hammocks are made for two people and accommodate different weight limits. If you're not wanting to share your hammock, you can always get a his and hers.
What's really cool also is that because there are so many colors and patterns and styles to choose from, it makes it super easy to decorate your backyard or patio! You can choose the color that best fits with your backyard or patio space decor, as well as coordinate with your other outdoor furniture.
Sunnydaze Decor has everything you need for your own backyard paradise! They've got beautiful patio furniture, colorful hammocks, stylish chaise lounge chairs, as well as vintage styled outdoor folding tables and armchairs.
The summer is a great time to lounge in a comfortable hammock. It's also a lovely time for hanging outside on your patio or backyard.
Sunnydaze Decor offers so many different hammocks that you can easily choose one for National Hammock Day or any other special occasion! You'll get joy from your hammock for a long time, and it'll become part of the background on warm summer days.
Whether you're in the mood to lounge or nap in a hammock, or cuddle up with your significant other – Sunnydaze has everything you need!
No matter what color your backyard is naturally, Sunnydaze makes it easy to add bright pops of color wherever you like. There are a wide variety of colors available, which means there's something for just about any style. Bright yellow goes well with green spaces because it's such an upbeat color. A dark, blue hammock goes great with a backyard or patio that already has outdoor lighting.
Sunnydaze can help you enjoy your outside time even more with all sorts of outdoor furniture such as: folding patio tables, hanging egg chairs, canopy patio swings, floating chaise lounge chairs, folding dining tables, folding patio armchairs, all weather outdoor chairs with drink holders, folding bistro benches, folding bistro tables, outdoor potting benches, outdoor coffee tables, outdoor patio furniture sets, and just so much more!
Looking good is easy with Sunnydaze Decor. They offer a nice selection of stylish wares that can help you make the most of your outdoor space. There's something for everyone – whether you're in the mood to read, lounge, relax, or just want to enjoy a conversation on your patio or backyard while enjoying fresh air and sunshine.
Sunnydaze has all that you need to create an oasis in your own backyard! You don't have to go out and buy different furniture pieces from various places because Sunnydaze offers everything at one online location so you can easily order what you want without having to jump around different websites. Shop Sunnydaze Decor for your outdoor furniture needs.
When it comes to hammocks, there are many styles and patterns available. The colors vary as well – which helps when decorating your backyard space! You can match up your hammock with your backyard color scheme, which is especially nice if you have a ton of trees and green grass.
When it comes to hammocks , Sunnydaze offers plenty of selection so you can find one that fits your home and lifestyle! You can choose between various styles, different fabrics, colors – the options are endless! You may want something that's smaller for indoors when you're not able to spend as much time outdoors in your backyard or patio space, but that also works well on outdoor patios and decks.
If you live somewhere with high humidity – like Florida – then you might want to consider getting a rust-proof hammock . A rust-proof hammock is great for humid places because it keeps its color better than most other types of metal. So even if you use your hammock in a place where the weather changes often, it's still going to make for a great hammock.
When it comes to National Hammock Day, Sunnydaze has plenty of options so you can celebrate National Hammock Day in comfort and style.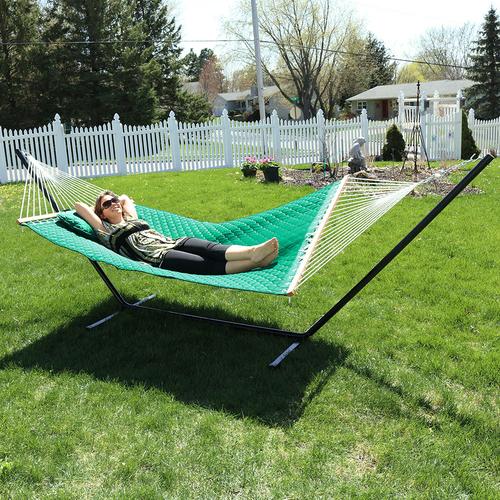 In addition to all their awesomely stylish and comfortable outdoor decor items, Sunnydaze offers free shipping to 48 states and is dedicated to customer service in order to make sure that you're happy with every purchase.
There are so many reasons to celebrate National Hammock Day, whether you're doing it just for kicks or because it really is National Hammock Day. Either way – you'll enjoy having Sunnydaze Decor hammocks hanging through the trees where you can lounge about in style!
National Hammock Day is a great time to relax and read a book, or just get away from the stress of life for a bit in your hammock. Who doesn't love lounging around on sunny days? It's like hanging out in heaven!
A colorful, comfortable summertime hammock makes the perfect gift this National Hammock Day (or any day). What better way is there for celebrating National Hammock Day?
Being able to relax in your own backyard with a sunny day and a nice breezy shade from a colorful summertime hammock is the perfect stress relief on National Hammock Day and any time of year as well! If you are looking into new ways of relaxing in your backyard, then look no further than Sunnydaze Decor. They have everything that you need to add some relaxation and style to to your backyard and patio.