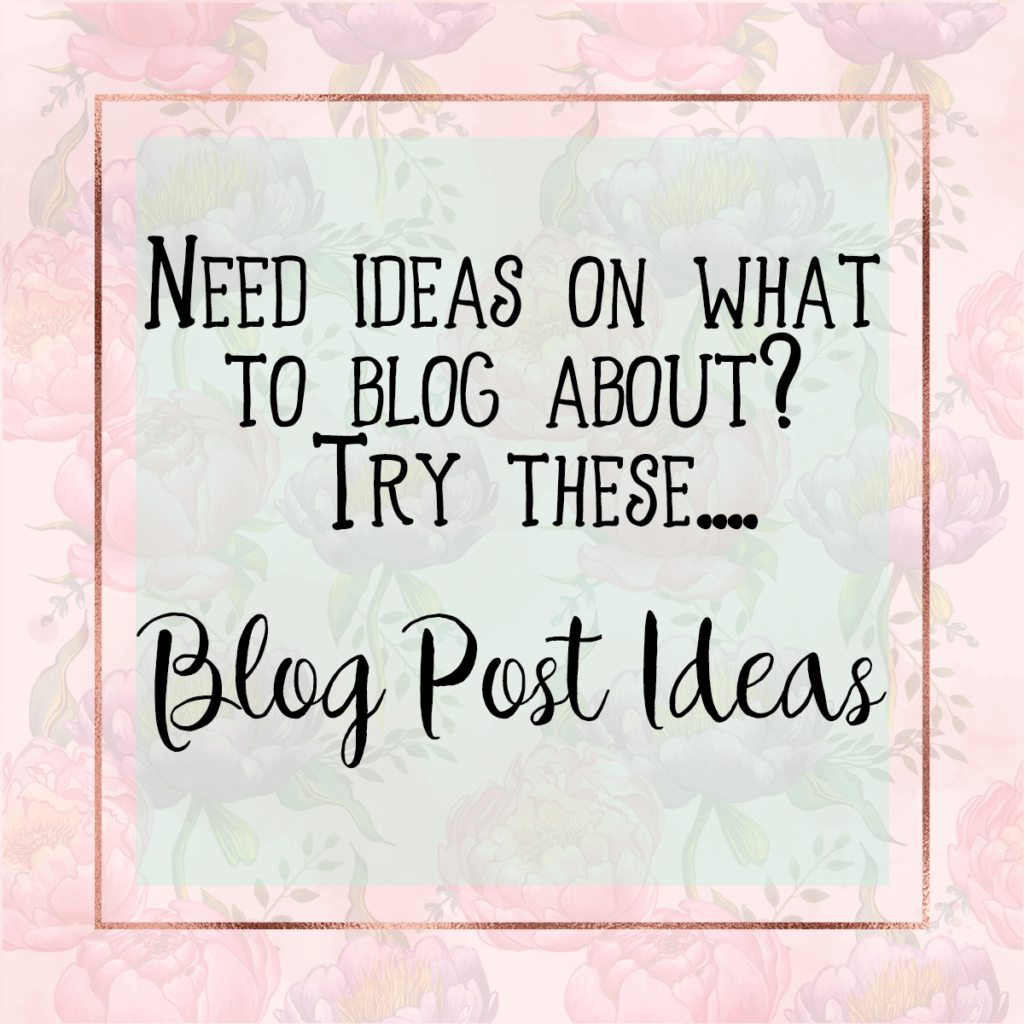 Blog Post Ideas When You Don't Know
What to Blog About
[bctt tweet="Blog Post Ideas When You Don't Know What to Blog About" username="Bloggingology"]
If you have a blog, then chances are you've had days when you just had absolutely no idea what to blog about. And chances are you'll have more days like that.
It's bound to happen sooner or later – we have the best intentions for wanting to blog (and often), but when it comes time to actually do the deed, our brains go blank. We get blogger's block.
It doesn't matter what type of blog you have – travel blog, fashion blog, lifestyle blog, mommy blog, homeschool blog, Christian blog, holiday blog, product review blog, shopping blog, pet care blog, frugal blog, health blog, etc…. blogger's block can strick anyone at any time.
Well, don't dispair. 🙂 This blog idea list can help with blogger's block, giving you blog ideas, what to blog about when your brain doesn't want to cooperate and allow you the pleasure of creating a blog post or posts.
I recommend bookmarking this blog post idea list so you'll have it when you need it again.
Note: This list is intended for various blogging topics. If a blog post idea isn't something you blog about, you can tweak it to fit your particular needs. Remember, these are blog post ideas which means they are meant to give you ideas.
Blog Post Ideas When You Don't Know What to Blog About
1. Your monthly goals for your particular blog topic.
2. Your bucket list. This can just basic, or can be created to fit your blog niche.
3. Blog about 10 things you can't live without, and tell why. Or better yet, 20 things, 50 things, etc.
4. If you're losing weight and getting healthy, blog about your progress. This could become a lot of posts.
5. Create a list of 10 to 30 things that you're grateful for, and tell why.
6. Write up a product review for a product that pertains to your blog topic. This could be a weekly or monthly blog post idea.
7. Blog about your home office (or home work space). Talk about home office organizing, etc.
8. If you're a parent with young children, blog about parenting while blogging and how you handle it – such as kids interrupting work, balancing blogging and home life, maybe some recipes, etc.
9. If you have a Christian blog, create a post to share your testimony.
10. Blog about why you started blogging and/or why you chose the topic you did to blog about.
11. Talk about your pets. Share photos of your fur children.
12. Create a post talking about how to create a blog, such as how to set up WordPress, how to choose a WordPress theme, what WordPress plugins to use, etc.
13. Blog about your favorite place to eat out at and tell why. This can also work for your favorite place to shop (including online shopping).
14. Create a DIY blog post about something you know how to do. Include photos. This could turn into a lot of blog posts.
15. Make a list of 10 fun things about yourself.
16. Post about your best blogging tips.
17. Write about what you would say to newlyweds that you think they should know for a long and happy marriage.
18. Share your best money saving tips.
19. Share your dream vacation. Talk about where you would go, what you would do, etc.
20. Create and share a 30 day challenge. Topics for this are pretty much endless! This could be a monthly blog post.
21. Compile a wish list and tell why you want each item on your list.
22. Blog about your faith in Christ, how your life turned around, people who've influenced your Christian walk, etc.
23. Create a list of your favorite books, movies, songs, and/or TV shows.
24. Share your favorite recipe and tell why it's your favorite.
25. Post about how you overcame something difficult.
26. Create a blog post about your significant other and share why they mean so much to you.
27. Blog about what (or who) inspires you, what (or who) keeps you motivated.
28. Share your favorite bible verses and/or quotes and tell why they're your favorites.
29. Write a letter to your older self – where you see yourself in 5, 10, or 20 years – your goals, dreams, regrets, wishes.
30. Talk about your passion for your blog topic…. why you love the topic, why you created a blog about it, why you want to share your passion for this blog topic with others.