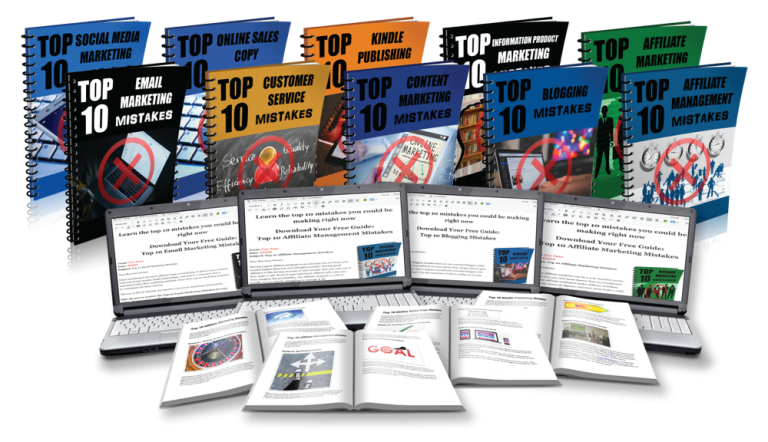 Alice has a new PLR bundle that can be super helpful to your readers (and to you). It's called the Top 10 Marketing Mistakes PLR bundle. It's a bundle of 10 reports about marketing mistakes and how to fix them.
These reports cover affiliate marketing mistakes, blogging mistakes, Kindle mistakes, and more. Many people are wondering what to do about their marketing efforts and how to correct things so they can earn more money. This is where you can help them.
If you're looking for ways to save time and money saving tools to quickly boost your marketing results, look no further.
The Top 10 Marketing Mistakes PLR Bundle is your answer.
[bctt tweet="100 Marketing Mistakes and How to Fix Them – Top 10 Marketing Mistakes PLR Bundle" username="bloggingology"]
But don't wait too long – this PLR bundle deal is only available for a short time, so grab it now.
This brand new PLR bundle contains 10 quick marketing reports, optin pages, and customizable covers – everything you need to create new list building funnels in less than an hour.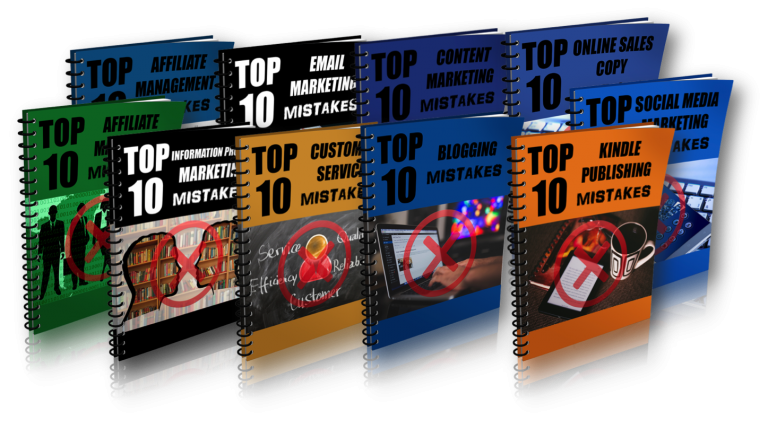 The PLR topics covered include:
1. Top 10 Social Media Marketing Mistakes
2. Top 10 Affiliate Marketing Mistakes
3. Top 10 Kindle Publishing Mistakes
4. Top 10 Blogging Mistakes
5. Top 10 Information Product Marketing Mistakes
6. Top 10 Email Marketing Mistakes
7. Top 10 Online Sale Copy Mistakes
8. Top 10 Content Marketing Mistakes
9. Top 10 Affiliate Management Mistakes
10. Top 10 Online Customer Service Mistakes
Your readers will love these reports! They'll get the help they need for various marketing mistakes, and they'll see you as the person that helped them. You'll gain new subscribers to your list.
Best of all, you can grab the whole pack at a ridiculously low price. We're talking less than the price of a pizza for 10 complete PLR report packages that will continue to help you grow your online business for years to come.
What can you do with these ready to go marketing mistakes reports? You can sell them as they are, edit them and sell them, use them are freebies to entice subscribers to sign up for your email list, use them as blog posts, social media posts, etc.
1. Use them as highly-targeted lead magnets to grow your list. Having one generic lead magnet in the sidebar of your website isn't enough. You need an opt-in offer that's related to the content your audience is consuming as they visit your site. For example, if you have a video about creating info products, you'll get more subscribers if you have an information product opt-in offer. It seems simple enough, but most people don't have the time to create all the lead magnets.
2. Turn them into viral blog posts. Everyone loves a good Top 10 list, especially when it's on topics that really matter to them. Each top 10 includes 10 copyright-free images, so you've got visually-appealing blog post, ready to go.
3. Use them as a series of social media content. For example, take the "Top 10 Online Sales Copy Mistakes" list and share one suggestion each day. You can even link to your opt-in offer each time, so they can get the full top 10 list right away.
4. Quickly churn out a podcast or video series. The script is ready for you…just read and record. Post your podcast to iTunes, add your video to YouTube…and of course, post both to your website and share them on social media and with your subscribers.
Don't put this off. Go grab the Top 10 Marketing Mistakes Lead Magnets PLR bundle now. This special offer and the ridiculously low price are only available for a short time only.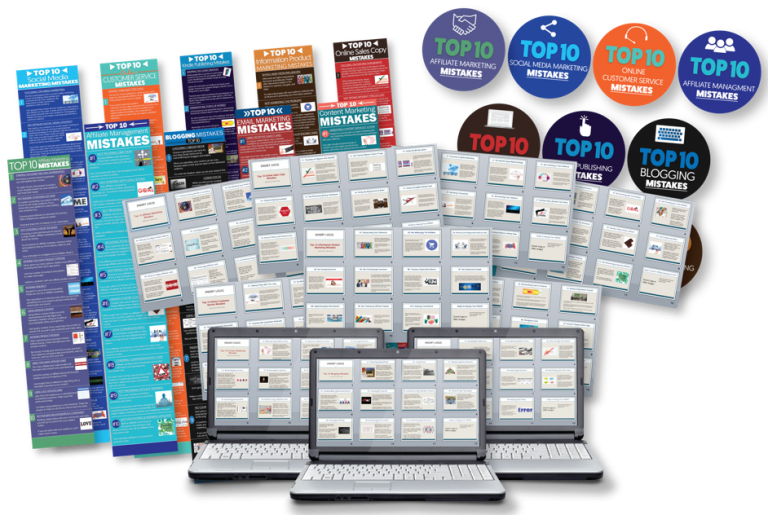 There's also an upsell that includes:
1. 10 Professionally Designed Infographics: There's one infographic for each Top 10. Use these on your site and on social media. Brand them with your logo/URL and encourage your followers to share them.
2. 10 Promotional Promo Graphics: These attractive promo graphics are a great way to drive traffic to your opt-in offer, blog post or wherever you have published your top 10s.
3. 10 Professionally Designed Slide Shows: These can be uploaded and shared (use SlideShare.net or a handy WordPress plugin), turned into videos, presentations and more. You can even PDF them to make attractive handouts.
Click here to get more details and grab your set of 100 Marketing Mistakes and How to Fix Them – Top 10 Marketing Mistakes PLR Bundle.