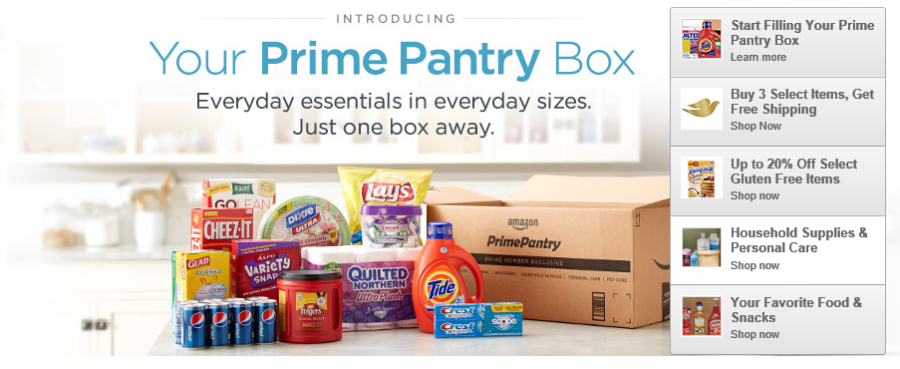 Try Amazon Prime 30-Day Free Trial
Click here to try Amazon Prime free for 30 days.
Prime members get:
* Access to Prime Pantry
* FREE 2-day shipping on millions of items
* Instant streaming of thousands of movies and TV shows
* Secure, unlimited photo storage with anywhere access
* Unlimited ad-free access to over a million songs and hundreds of playlists
* Borrow books from the Kindle Owners' Lending Library
* Early access to select Lightning Deals on Amazon, and every event on MyHabit.com
[bctt tweet="Try Amazon Prime 30-Day Free Trial" username="Bloggingology"]
Try Amazon Prime for 30 days with this free trial. Not only can you get free 2-day shipping, you also get access to Amazon's Prime Pantry where you can shop for groceries and other things that you'd normally buy when shopping.
As you shop and put the items you want into your box, it shows you how full the box is. Pantry boxes are large and can hold up to 45 pounds or four cubic feet of household products. It's a flat rate of $5.99 shipping.
This is super cheap! You save time and gas!
Each item tells you how much of the box it fills up. These boxes can hold a lot! You have to be an Amazon Prime member and if you use the 30 day free trial, you can try this out and see if you like it.
Go check it out at http://amzn.to/1HCulwC and sign up for the free 30 days and see for yourself.
After signing up go to the Prime Pantry at http://amzn.to/1AmM3BPor and check out what all you can get without having to go to the grocery store and spend time and gas.