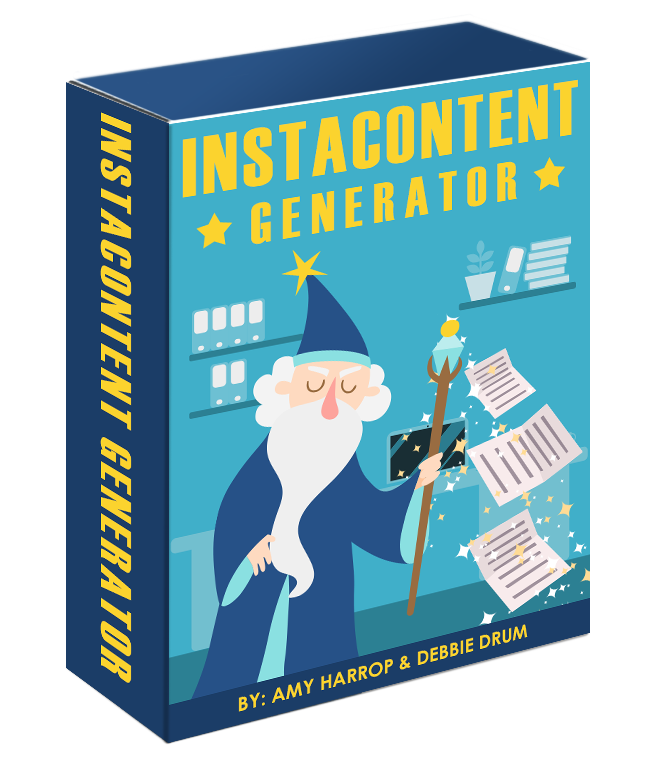 *Disclaimer – I was given review access to InstaContent Generator. 
I have to say I am blown away and I think I am in love with this new product! Wow… just wow…
Amy and Deb have a new product out that you're going to totally love! It's called InstaContent Generator and it allows you to easily drag-and-drop your way to unique professional content in just about any niche.
People are constantly looking for short (and also not so short) informative, educational, helpful, and entertaining content – content such as worksheets, checklists, journaling pages, workbooks (think homeschooling and learn at home), cheat sheets, and more.
[bctt tweet="Create, Publish, and Profit – Publish Quality Content to Sell Quickly and Easily" username="Bloggingology"]
Now you can easily and quickly create these types of in-demand content. Create the content, publish the content, and profit from the content. And here's the best part – you don't need Adobe InDesign to create these, so that means no having to learn InDesign and no recurring monthly fees!
The new InstaContent Generator drag-and-drop tool is an easy to use tool that allows you to create and publish various content that you can sell.
• Worksheets
• Cheat Sheets
• Checklists
• Journal Pages
• Guidebooks
• Workbooks
• Card Decks
• And Much More
The InstaContent Generator tool works for both PCs and Macs, so you're covered no matter which you use. This makes it even more super handy!
The ideas for using this content generating tool are just endless! Remember, you can create content for just about anything.
Click here to watch the videos and see what you can do with this amazing tool.
Let's think about creating worksheets and workbooks – worksheets being of course single pages and workbooks being a collection of worksheets to form a workbook. You could create worksheets for homeschooling on various topics for various ages. That in itself is a lot of content right there! Now think of making a lot of worksheets on various topics for various ages, and you have yourself a lot of workbooks! You can also make worksheets (and workbooks) for topics such as weight loss, etc.
The worksheets and workbooks for homeschooling is just ONE thing you can do with the InstaContent Generator! Just imagine the possibilities when you use it to create other content!
Say you want to create checklists. People love checklists! There are SO many ideas here – moving checklists, homeschooling checklists, babysitter and child care checklists, online business checklists, pet care checklists, grocery shopping checklists, project checklists, etc. There's virtually no ends to the kinds of checklists you can make!
Journaling is amazingly popular. You can make all sorts of journal pages for all sorts of journals – gratitude journals, new mom journals, extectant mom journals, faith journals, coloring journals, productivity journals, goal journals, grief journals, couples journals, wedding journals, etc.
The idea here is that you can create low content pages easily and quickly. You can save a single page or save a number of pages to make a book. You can upload your own images you never have to worry about someone having the same thing as you. Start with the included templates… You can use them as they are but I recommend that you edit them, then just save your templates to use again and again, or edit to make even more new content designs. So easy, so fast!
Create the content quickly and easily with the InstaContent Generator, publish it, make sales! You can sell downloadable printables from your website, and/or publish workbooks, journals, guidebooks, etc. using CreateSpace and sell on Amazon.
Because worksheets, workbooks, journals, and checklists are consumable, you're likely to get repeat buyers for your content. Keep creating content, and your customers and/or subscribers will keep coming back to you for more. Give them what they want, and you can grow your subscriber list and gain customers – all by just creating, publishing, profiting from content you create with the InstaContent Generator!
Now for the best part! Amy and Deb have this priced super low right now – and no recurring monthly payments like InDesign. It's a low one time payment, and then it's yours to use repeatedly to create, publish, and profit.
Once you purchase, you have the option to get the InstaContent Generator Mastermind offer, which is live training and additional content to help quickly create low content products that sell. This will help you with how to use the product along with ideas on creating and selling.
You also have the option get the InstaContent Generator Developer's License. I highly recommend getting the Developer's License because you can then use InstaContent to create content such for others, like clients, and reselling such as PLR content.
Overall, I believe you're going to absolutely love this product. It makes creating low content products easy and fast. Using this tool will also save you time and money. No long hours trying to figure out InDesign, only to be frustrated with it. No spending tons of money and not knowing what to do with the product.
Seriously, go watch the videos and you'll see how much you want this! And grab some paper and a pen, because the ideas of what you can do with this are going to start twirling around and you'll want to jot them down. 🙂
Click here to grab the InstaContent Generator now.
You are going to love this!