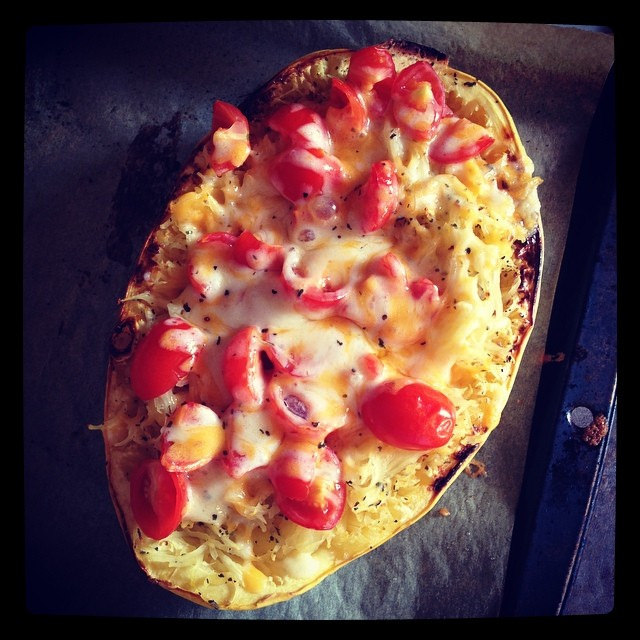 I don't know about you, but I totally love spaghetti squash! It's so yummy! And it doesn't have many calories, as opposed to regular spaghetti pasta that's loaded with calories.
Spaghetti squash only has about 30 calories per cup. Regular spaghetti pasta has about 220 calories per cup. Huge difference! That makes it a lot healthier to eat than pasta. I love pasta, but I hate all those yucky calories.
Spaghetti squash can be used pretty much as you would regular pasta. Instead of the regular pasta when in your recipe, just substitute cooked spaghetti squash. It has a wee bit of a sweeter taste.
I confess – before I tried spaghetti squash, I was skeptical as to how it would taste. I'd never tasted it before, which is pretty surprising considering that as kids we grew up with a garden. But we only planted regular yellow squash. So I was an adult before I learned of the joys of the oh so yummy spaghetti squash. Now we're great pals – if you can consider yourself a pal to something that you eat.  🙂
[bctt tweet="Cooking Spaghetti Squash – Super Yummy Eating!" username="Bloggingology"]
The best way to prepare spaghetti squash is to bake it in the oven. Some like to boil it in a big stock pot or even poke holes in it and microwave it. While both of these methods work, baking it is better in my opinion.
The one bad thing about preparing spaghetti squash to bake is that you have to have a wee bit of strength to cut it in half for baking. You might find yourself needing a male to do the cutting for you, assuming you aren't already a male.  🙂
Okay, so here's the recipe for baking spaghetti squash in the oven.
You will need one spaghetti squash, washed and dried. One will feed 2 to 4 people.
Preheat the oven to 350 degrees. While the oven is heating, take a good butcher knife and carefully cut the spaghetti squash in half lengthwise. The squash is really hard, so be careful as you cut.
Once it's cut in half, use a good strong soup spoon to scoop the seeds out of the middle. You only want to scoop the seeds out, not the rest.
Place the two halves with the cut sides down in a baking pan. Fill with about one to two inches of water. You can bake without the water, but the water helps to steam and soften the squash better. I've always used it but you can do whichever way is preferable to you. You can cover the baking pan with foil if you prefer to. I don't cover mine but you can if you wish.
You will want to bake the spaghetti squash for 30 to 45 minutes. If yours is a smaller one, start with 30 minutes for baking. Check it and see if the outside skin is tender. If not, bake it for another 15 minutes and check it again for tenderness. A larger one will probably need to bake for about an hour. I usually bake mine for about an hour and it's always just right, but I tend to buy the larger size.
Once the outside skin is tender, remove the pan from the oven. If you want to remove the squash from the skins, after it's cooled for about five minutes, use a fork and run it down the inside of the skin and remove it, placing it in a bowl or on a plate. You will see as you remove it that it looks like spaghetti, hence the reason for the name. After you've removed all of it, you can toss with olive oil, butter, add sauce or cooked meat or grilled chicken or cheese, etc.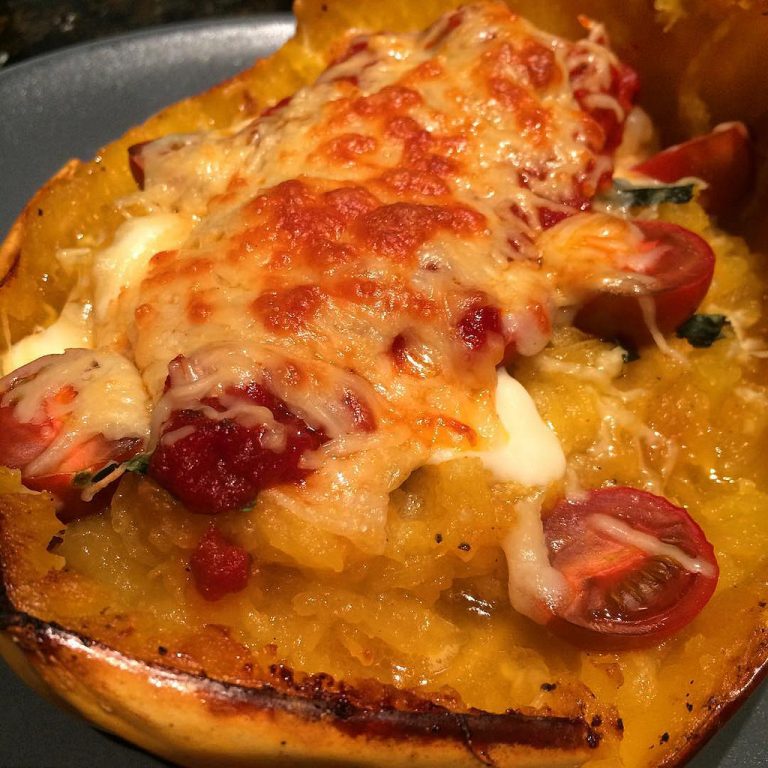 If you opt to eat it as it is coming out of the oven, place each half on a plate and top with cheese, sauce, meat, chicken, veggies, etc. Allow it to cool a little, of course, before eating.
Leftovers will keep in the fridge for about a week. You can also freeze the squash for up to three months. Just remove it from the skin and place in containers, then freeze.
A note – you can bake the spaghetti squash hole without slicing it before it's baked. To do this, poke a few holes into it with a fork or an ice pick, then bake for about an hour and slice it in half afterwards, then scooping out the seeds.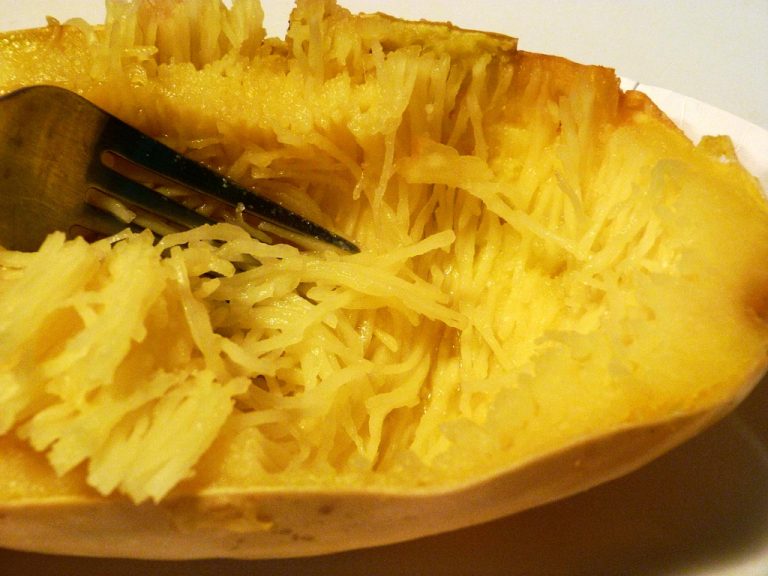 I found that for me personally, I preferred the way it came out cutting it before baking rather than baking it whole. It's also easier to get the seeds out if you slice it before it's baked and scoop the seeds out before. You an be the judge of how you like it and prepare it the way that you like the best. 🙂
So there you have it, the joys of cooking spaghetti squash. It's a wee bit of work involved in preparing a healthy meal, but it's so yummy and your tummy will thank you for it.