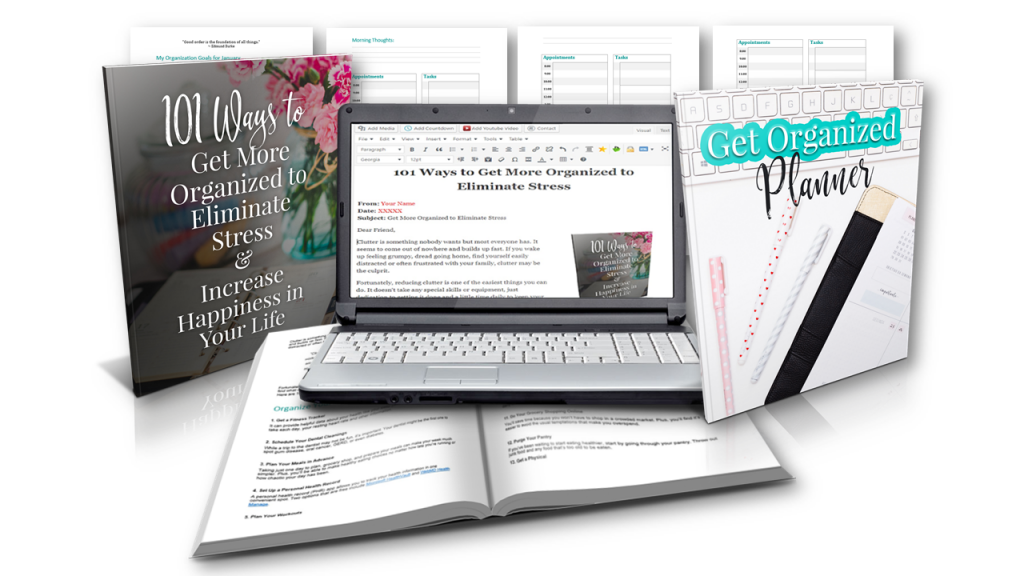 If you're wanting to help yourself and/or others get organized and live a better life, you'll want to check this out.
Folks love a good planner, they love a good journal, and they love printables… they're all super popular and very handy.
For a limited time you can get this complete get organized PLR package that includes a customized organizing planner along with a detailed report, 101 Ways to Get More Organized to Eliminate Stress and Increase Happiness in Your Life…but for a short time only. This informative content will help you and/or your readers get organized and eliminate stress.
Click here to get the details and grab the entire package.
Here's what makes this PLR deal even sweeter – Not only can you use this content for your own needs to help you become organized and live a more organized life, but you can turn these into products and/or books you sell as well. That means you can sell the content and make yourself some money while helping others to become organized.
Let's cut to the chase here – In this day and age where folks are almost always on the go, there are a lot of people (and I mean a lot!!) who are not organized. Their lives are cluttered. These folks can be parents, homeschooling families, work at home moms, etc. They need help and tips to get organized, tips to declutter, tips to organize the day, etc. Maybe this is you too.
101 Ways to Get More Organized to Eliminate Stress and Increase Happiness in Your Life along with the Get Organized Planner can help to get organized. But don't just help yourself here – use the content to help others! Edit it if you wish (or use it as is), add your name and/or website to it, sell it, and keep all the profits for yourself. Your helping yourself, making money, AND helping others too! You can take the report and planner and add your name and branding. You can monetize the report and planner or give them away as opt-ins to grow your list. You can turn them into books or sell them as downloadable products. It's content DONE-FOR-YOU and it'll save you tons of time and money.
Clearly a lot of time and work went into designing this package … and for a limited time you can pick up the whole thing for one teeny tiny low introductory price…you're going to save TONS of time and your followers are going thank you for such awesome content.
Here are a few ideas for using the content:
1. Use the planner and report as highly-targeted lead magnets to grow your list. You've got the ready-to-paste opt-in copy for each included in the package, making it easy for you to make a hard-to-resist opt-in offer to get more subscribers.
2. Add the planner or report to your membership site. If you've got a membership site, this report and planner would be a great value-add to your membership. Send them out by email or even print out and mail them.
3. Use the planner or report as a product bonus. Beef up your current product offers by adding the planner and report as a product bonus.
4. Develop them into a product for sale. Whether you deliver via email or snail mail, this content makes for great content your customers are willing to pay for.
5. Create an online training program around the content. For example, you could build an organization course around the organization planner. It's the central point of your training as you walk your customers through becoming more organized in all areas of their lives.
6. Offer the content as a high value extra for your coaching and consulting clients. If you offer coaching or consulting services, this content is a great way to help your clients take action on getting organized and staying on track.
Here's what included in the front end package:
It includes a detailed report to help your readers finally get their lives organized and a planner to keep them on track and it's under $10…but for a short time only.
1. 101 Ways to Get More Organized to Eliminate Stress & Increase Happiness Report (.doc) – 4,187 words/15 pages: Includes 101 helpful ideas on how to get more organized in all different areas of life.
2. Get Organized Planner (.doc) – 10,494 words/350 pages: A beautiful place to track daily tasks and appointments. Also a space for review and to document thoughts.
3. Lead-Generating Opt-in Page: To help you grow your list with this content, Alice has included the opt-in copy and the WordPress-ready code. She even hosts the images!
4. 2 Professionally Designed Ecover Sets: .JPG and .PSD with flat cover and 4 x 3D versions to go with the report and planner to help your opt-ins stand out.
5. 20 Inspirational Social Media Graphics: 20 attractive graphics to inspire your followers to share on social media and more.
Click here to grab the entire package now.
But that's not all! Once you grab your package of 101 Ways to Get More Organized to Eliminate Stress and Increase Happiness in Your Life plus the Get Organized Planner, I highly recommend grabbing the OTO for Get Organized Worksheets and Journal Pack.
This is an entirely separate PLR package of printables and a Get Organized Journal.
People love printables and they love journals.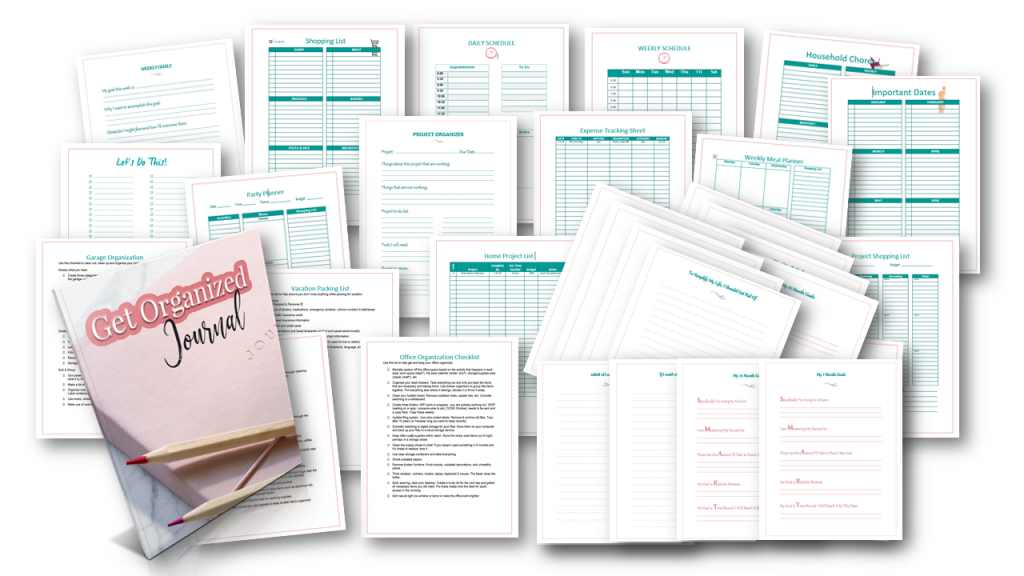 Use the 20 Pack of Get Organized Printables as they are, or edit them. Sell them as a bundle or sell each one separately… or give them away. The choice is yours.
Look at the list below… these are printables for very popular topics for getting organized. These printable worksheets can save you and your readers a ton of time by using them. You can offer them as PDF printables, so they can be printed over and over again, getting a lot of repeat use. Or offer them in a book form and make book sales. Lots of ideas!
Thought provoking and action inspiring printable topics including:
1. Daily Schedule
2. Weekly Schedule
3. Household Chores
4. Important Dates
5. Weekly Goals
6. To Do List
7. Grocery Shopping
8. Spending Tracker
9. Project Organization
10. Weekly Meal Planning
11. Party Planning
12. Home Project List
13. Project Shopping List
14. Decluttering List
15. Vacation Packing List
16. Holiday Gift Planning
17. Office Organization Checklist
18. Pantry Organization Checklist
19. Garage Organization Checklist
20. Kitchen Organization Checklist
The Get Organized Journal is a beautifully designed journal to jot down thoughts for the day. It also includes writing prompts including:
1. How I feel When I'm Disorganized
2. What My Organized Life Looks Like
3. Things I can do better
4. Things I should do more of
5. Things I should do less of
6. To Simplify My Life, I should Get Rid Of
7. Things I Can Do at Work to Be More Organized
8. My 1 Month Goal
9. My 6 Month Goal
10. My 12 Month Goal
Plus you get a professionally designed ecover set in JPG and PSD formats with a flat cover, and four 3D versions to go with the journal.
Click here to get the details and grab the entire package at the low introductory price while it lasts – hurry, the deal ends soon.
Help yourself and help others get organized with tips and ideas to get organized, a get organized planner, get organized printables, and a get organized journal.